How inviting is your home entrance, and what does it say about you? If you want to create the perfect portal, the Barratt Homes team have collaborated with celebrity astrologist, Sally Kirkman to reveal how to style your home entrance, based on the traits of your zodiac sign.
ARIES – (Mar 21-Apr 19)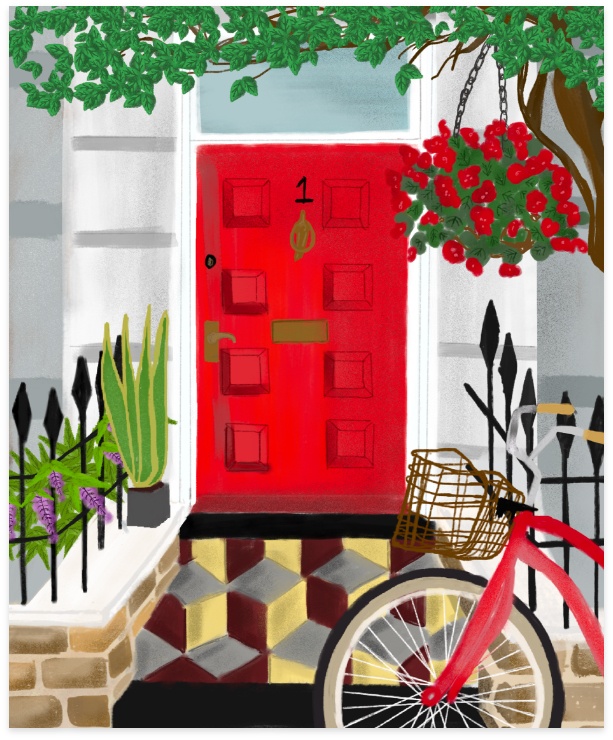 Element: Fire Planet: Mars Symbol: Ram
Top Traits: Energetic, competitive, independent
Lucky house number: 1
Key colours: Red, representing courage, danger and passion.
Your signature style: The first sign of the zodiac, you love to be on trend. A simple, bold, fuss-free design that allows you to refresh your look suits your impulsive nature. Aries heralds the spring Equinox, meaning bright colours suit your fun personality. You love to shock others in your style choices – you need something to wow your neighbours; a door that makes a statement. You're likely to be active, and maybe even sporty, meaning you'll probably need somewhere to keep your bike too!
Shapes and patterns: Strong, bold patterns. Small, fussy details are a no-no for you. For the frame of your door, consider sharp angles and asymmetric shapes, rather than curved edges, like arches.
Materials: Modern materials such as metal or steel
Plants to pick: Pointed, spiky plants such as cacti and prickly pear. Team these with red geraniums and roses.
Your perfect accessory: A chilli pepper door knocker
TAURUS – (Apr 20-May 20)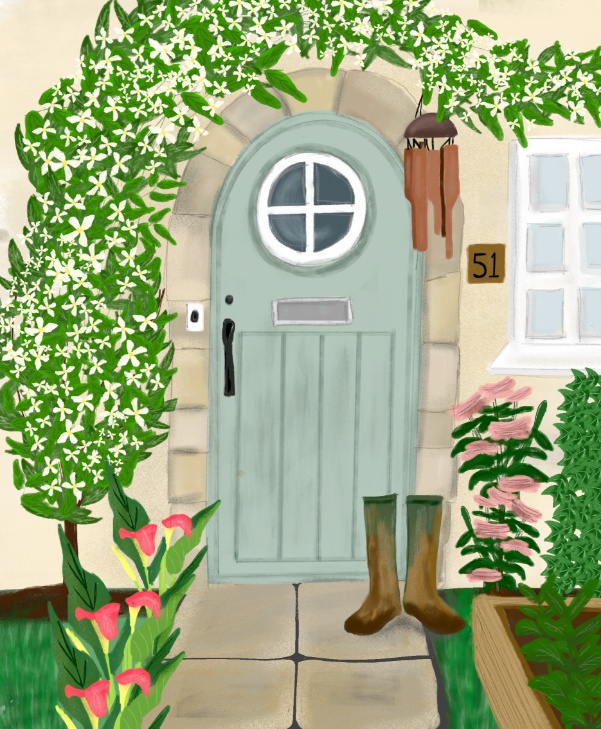 Element: Earth Planet: Venus Symbol: Bull
Top traits: Reliable, sensual, persistent
Lucky house number: 51
Key colours: Earthy colours such as green, rust, copper, cream and brown
Your signature style: Ruled by Venus, goddess of beauty, aesthetics matter to you and you want the front of your home to appeal to the senses. You're a traditionalist at heart and a creature of habit. You seek comfort in nature, making a cottage in the countryside your perfect home. As a lover of the great outdoors, you will definitely need somewhere to store your wellies.
Shapes and patterns: Feminine shapes, curves and soft edges. An arched door would be perfect for you.
Materials: Natural, robust and durable materials, such as wood or bamboo.
Plants to pick: Fragrant herbs, fruit trees, sweet-smelling flowers, lilies or jasmine. Team these with abundant foliage.
Your perfect accessory: A wind chime
GEMINI – (May 21-June 20)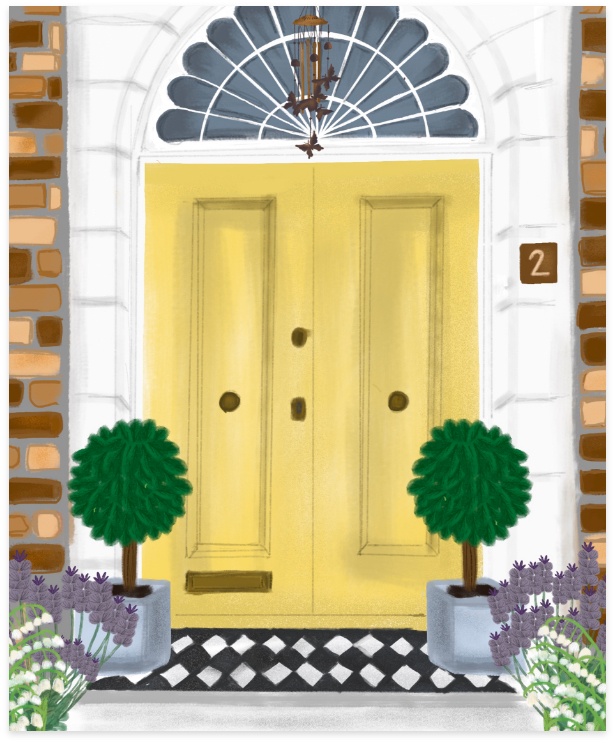 Element: Air Planet: Mercury Symbol: Twins
Top Traits: Quick-thinking, agile, youthful
Lucky house numbers: 2 and 3
Key Colours: Yellow, along with bright, light, and airy tones.
Your signature style: The sign of the twins, Gemini rules duality. Two of everything is your motto. Variety suits your mercurial nature, so a mix of integrated styles would be preferable. You have a trickster, playful mentality as the harlequin or joker of the zodiac. Your fickle nature means you like to change your surroundings often, so it's likely your style will be updated more than most!
Shapes and patterns: Small shapes and geometric patterns in a multitude of colours. You thrive off symmetry, so two symmetrical shrubs at either side of your door would be ideal for you.
Materials: Light, functional, versatile materials, such as wooden panels in contrasting colours.
Plants to pick: Lavender and lily-of-the-valley are your top picks. Bright yellow daffodils and nut bearing trees are also suited to your sign.
Your perfect accessory: Butterfly motifs
CANCER – (Jun 21-Jul 22)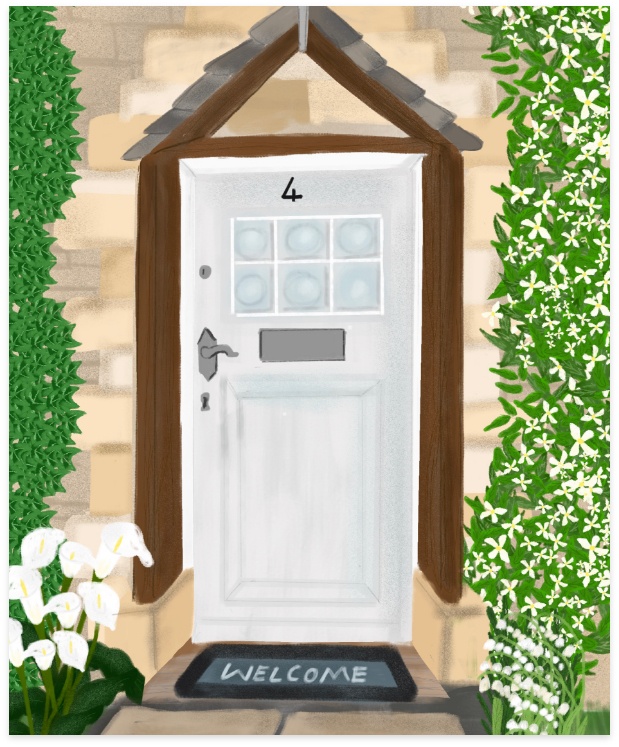 Element: Water Planet: The Moon Symbol: Crab
Top traits: Emotional, reflective, home-loving
Lucky house number: 4
Key colours: Silver, white, and mother-of-pearl, as they represent the Moon.
Your signature style: Home is where the heart is for Cancer and your nurturing nature craves cosiness and comfort. You favour the old-fashioned look, thriving off shabby chic style and quaint artefacts. You should draw this out in your home entrance by creating a sense of history using old sculptures or junk yard finds. You love to retreat when you return home, and the front of your home must feel warm and welcoming.
Shapes and patterns: Curved crescent moon shapes or circles representing the full moon. Opt for soft lines over sharp edges.
Materials: Natural and antique materials such as glass or silk. You love anything that retains the pull of memory and reflects the past.
Plants and flower: Delicate white flowers, such as tulips or lilies, surrounded by lots of deep green leaves and foliage.
Your perfect accessory: A welcome mat laid on a piece of bleached driftwood.
LEO – (Jul 23-Aug 22)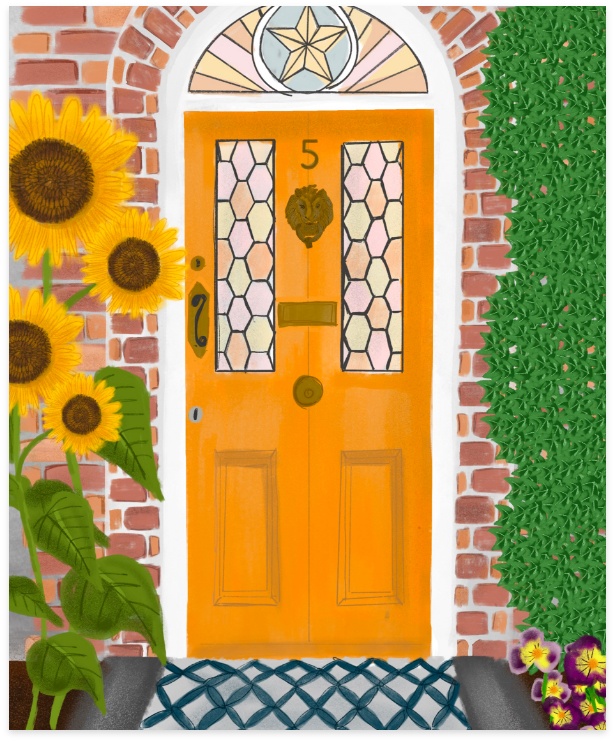 Element: Fire Star: The Sun Symbol: Lion
Top traits: Regal, Colourful, Theatrical
Lucky house number: 5
Key colours: Bright oranges, gold, and sunset pinks to symbolise the sun.
Your signature style: As the performer of the zodiac, the front entrance of your home must be dramatic and ooze style. You love Hollywood glamour and are drawn towards expensive status symbols. If you can flash the cash, you will. Your taste isn't always subtle, and you often have a penchant for gold and bling. As your star sign is linked to royalty, it's no wonder you have such expensive taste!
Shapes and patterns: Hexagons, pentagons, and 5-pointed stars. When it comes to patterns, animal print is your go-to.
Materials: Rich statement pieces like stained glass that reflects the sunlight or colourful Spanish tiles.
Plants and flowers: Sunflowers, marigolds, gerbera, dahlia and safflower.
Your perfect accessory: An impressive gold door knocker
VIRGO – (Aug 23-Sep 22)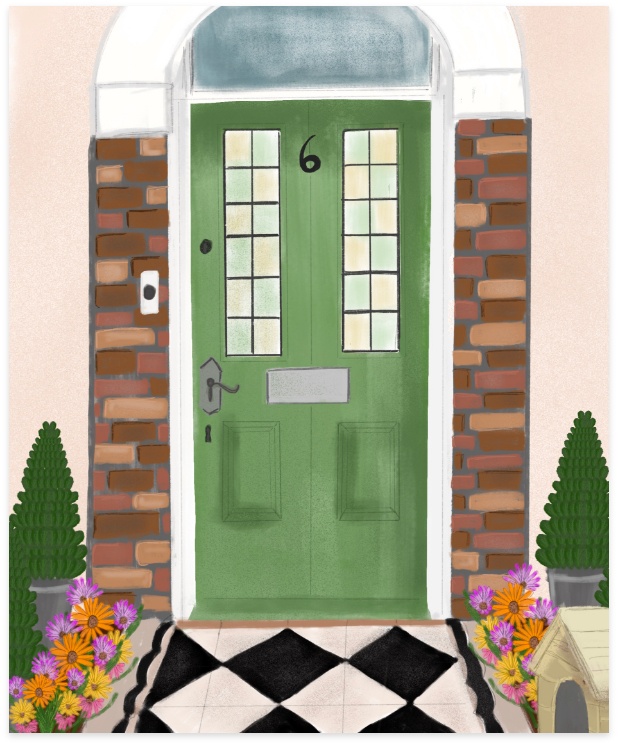 Element: Earth Planet: Mercury Symbol: Virgin
Top Traits: Resourceful, attentive, body-conscious
Lucky house number: 6
Key colours: Leaf green, earth brown, beige, and corn yellow reflect your love of nature.
Your signature style: As a Virgo, you have an eye for detail and are attracted to objects that have been beautifully constructed. You're the craftsperson of the zodiac; attentive, neat and precise. Your home entrance should be tasteful with refined decoration, incorporating your love of arts and good craftsmanship. Your keen eye for detail means your home is probably always spotlessly clean.
Shapes and patterns: Intricate shapes and clever patterns. Diamonds and squares are great shapes for you.
Materials: Ceramic tiles – as you're practical by nature, you should opt for a surface that's easy to clean.
Plants and flowers: Small bright flowers, such as buttercups or daisies. Matching topiary shrubs would look great outside your door.
Your perfect accessory: A mini kennel for your pooch to clean their paws.
LIBRA – (Sep 23-Oct 22)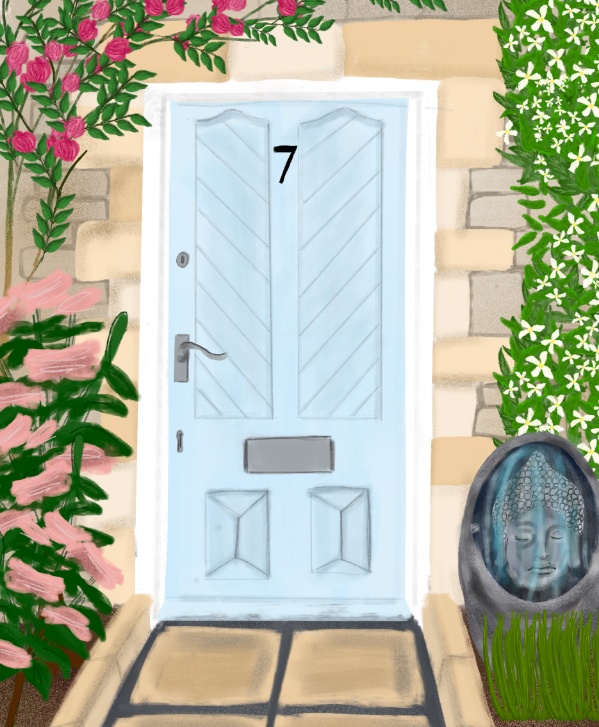 Element: Air Planet: Venus Symbol: Scales
Top Traits: Diplomatic, charming, peace-loving
Lucky house number: 7
Key colours: Pastel colours, especially pale blues, light greys and subtle pinks.
Your signature style: Ruled by Venus, you are the style icon and designer of the zodiac. Symmetry, harmony and balance are all associated with Libra, emphasising your love of elegant design. Your style is feminine rather than frilly, attracting you to beautiful ornaments, along with peaceful, calming decoration. Your style is a blend of modern and classic, tranquil and serene. Marie Kondo is your style icon, as you love to keep things organised.
Shapes and patterns: You love repetition, so should consider shapes that flow, or clean lines in colours that coordinate perfectly.
Materials: As you're super stylish, you'll only want to use modern materials, such as aluminum.
Plants and flowers: Beautiful roses, preferably pink, along with bluebells, orchid, gardenia, and gladiolus flowers. The scent of vanilla is the essence of your sign.
Your perfect accessory: A tinkling Japanese water feature
SCORPIO – (Oct 23-Nov 21)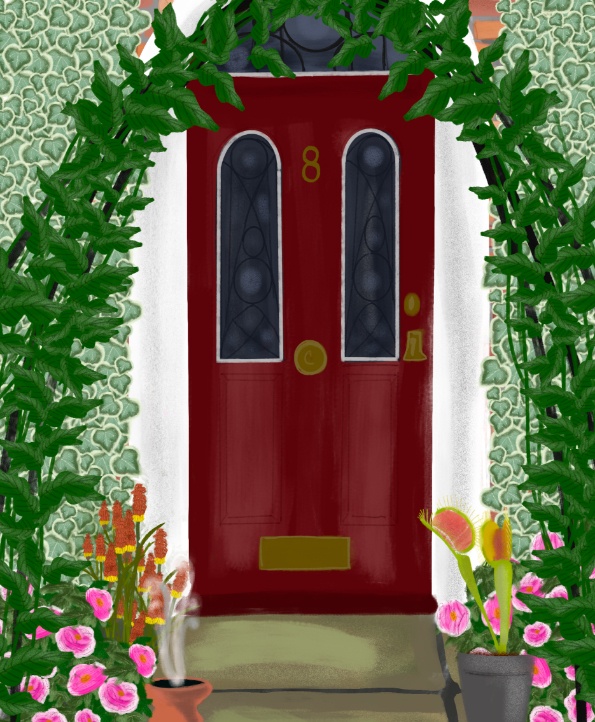 Element: Water Planet: Mars & Pluto Symbol: Scorpion
Top Traits: Intense, focused, mysterious
Lucky house number: 8
Key colours: Black and red. Think deep maroon tones, full of richness and flavour.
Your signature style: Your passionate nature lends itself to rich, vibrant designs that feel exotic. You're also drawn to gothic architecture, so bear that in mind when designing your home entrance. You have a fascination with the dark side of life and you often acquire weird and wonderful items from your travels, or from antique shops. Privacy is very important to Scorpio, so a hidden door, perhaps under ivy, would suit you perfectly. Incense burners placed at your home entrance will give guests a sense of your rich, intense, personality.
Shapes and patterns: Magical, alchemical shapes such as pyramids, pentacles, or even sacred symbols.
Materials: Rich, natural, materials such as dark wood, leather and antique silver align with Moroccan culture, which rules your sign.
Plants and flowers: Exotic flowers such as peonies or a venus fly trap. Flowers that have a musky scent will satisfy your signs' desires.
Your perfect accessory: Intricate, old-fashioned locks
SAGITTARIUS – (Nov 22-Dec 21)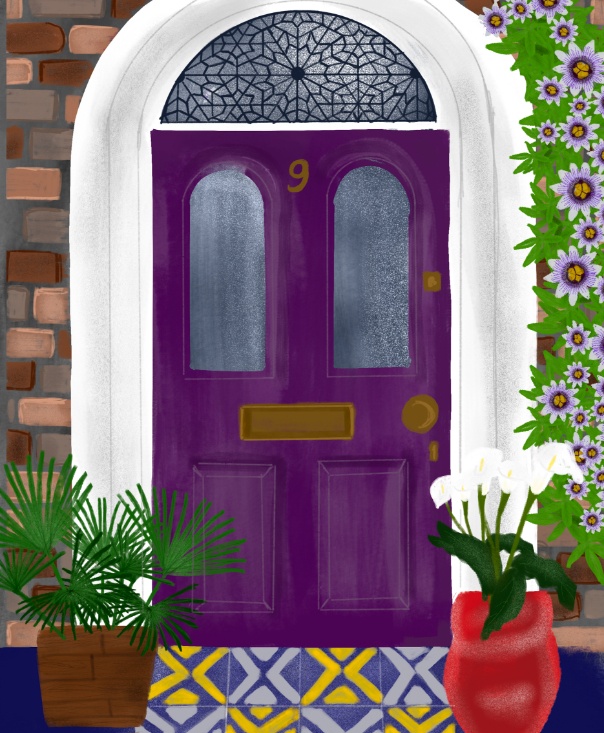 Element: Fire Planet: Jupiter Symbol: Archer
Top Traits: Enthusiastic, free-spirited, visionary
Lucky house number: 9
Key colours: Purple, royal blue, vivid yellow and pillar box red. Your wild personality loves to clash them together.
Your signature style: You are a larger-than-life character and like to stand tall when you enter a room– so no small doors for you. You tend to go over the top with decorating and furnishing, unleashing the extravagant, hedonistic side of your character. The traveller and explorer of the zodiac, your love of adventure seeps through in your design. As an adrenaline junkie, you love to keep active with exhilarating activities such as horse-riding, skiing, and hiking.
Shapes and patterns: Bohemian prints and exotic patterns – the bolder the better. A dainty approach won't work for you.
Materials: Rich natural materials such as leather and wood will showcase your love of the great outdoors. Combine these with materials from your favourite countries to showcase your true style.
Plants and flowers: Succulent grapevines, or unusual foreign plants that will catch attention. Colourful carnations and berried plants are also a top pick.
Your perfect accessory: A huge statement pot or exotic urn
CAPRICORN – (Dec 22-Jan 19)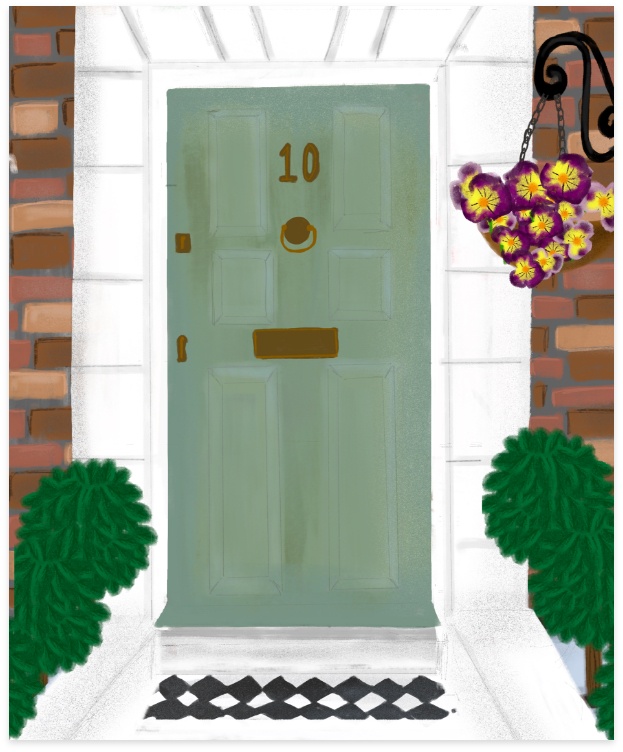 Element: Earth Planet: Saturn Symbol: Sea-goat
Top Traits: Ambitious, traditional, dignified
Lucky house number: 10
Key colours: Brown, grey, navy blue and moss green capture your consertive nature.
Your signature style: Capricorn is the star sign linked to history and tradition, with status and reputation your famed hallmarks. Kate Middleton is one of your key style icons, which explains your appreciation for quality goods and well-crafted antiques. You are known to gravitate towards exclusive shops with an established reputation and are rarely bothered by fashion trends. As a Capricorn, you could have the best home entrance on the entire street, but it will focus on quality rather than making a statement.
Shapes and patterns: Traditional shapes such as squares, triangles and oblongs. Stick to classic designs, such as stripes or checks rather than abstract patterns or prints.
Materials: Dark wood, leather and stone, aloing with any high quality material.
Plants and flowers: Choose trees, shrubs and ivy, rather than brightly coloured flowers. However, if you do want to add some colour, scattered pansies or jasmine flowers are your best bet.
Your perfect accessory: A vintage timepiece
AQUARIUS – (Jan 20-Feb 18)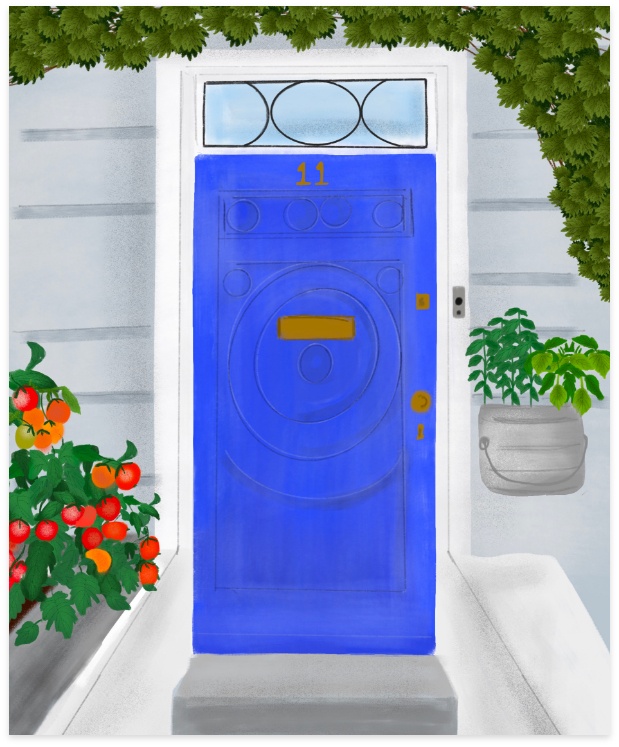 Element: Air Planet: Saturn & Uranus Symbol: Water-bearer
Top Traits: Forward-thinking, unique, socially responsible
Lucky house number: 11
Key colours: Neon colours, particularly electric blue. Combine with silver for a true reflection of your sign.
Your signature style: The most futuristic and unconventional star sign, new styles and trends appeal to you rather than old designs or antiques. You have a love of kitsch art and retro styles but could just as easily embrace a space age theme, or futuristic design. A unique individual, you won't want your front entrance to look like anyone else's. You love gadgets and will no doubt have a high-tech alarm, lighting, and doorbell for your home entrance. Abstract art also attracts you, along with distinctive, modern pieces that raise questions and provoke thought.
Shapes and patterns: From zigzags and diagonal lines to peace signs and love hearts, you are an extremist which means anything goes.
Materials: Recycled plastic, vinyl and aluminum, along with locally sourced materials.
Plants and flowers: Colourful tomato plants teamed with rich leafy green herbs. An urban garden would be ideal for you.
Your perfect accessory: A modern sculpture or statue
PISCES – (Feb 19-Mar 20)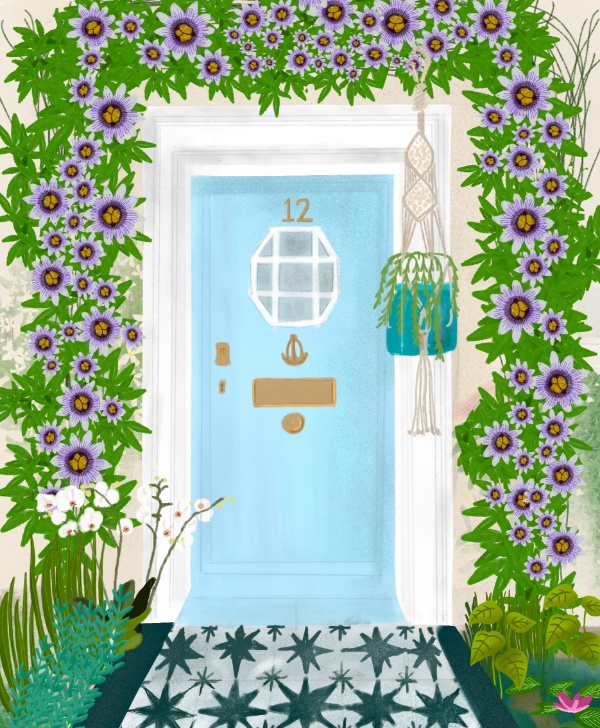 Element: Water Planet: Jupiter & Neptune Symbol: Fishes
Top Traits: Romantic, compassionate, creative
Lucky house number: 12
Key colours: Deep blues, sea-greens, aquamarine and mauve. You also love translucent colours that change with the light.
Your signature style: You are the zodiac's romantic and enjoy subtle, soft, and ethereal design. Dreams and imagination play a key role in your design as you're a lover of fantasy. You have a deeply sentimental, sensitive nature and wallow in the realm of emotions. Pisces is the spiritual, cosmic star sign. You are a huge fan of the beach, so scattering shells down your garden path or installing a beautiful water feature would accentuate your traits.
Shapes and patterns: Swirls and spirals, along with any cosmic shapes. Stay true to your sign by exploring a nautical theme.
Materials : pliable, tactile materials. Use rope to hang any baskets and opt for natural elements such as driftwood.
Plants and flowers: Succulent water lilies, lotus flowers and cosmos, or how about white orchids by your doorstep?
Your perfect accessory: A mermaid water feature