Cocktail lovers, rejoice! You can now buy a whole keg of Espresso Martini to be delivered straight to your door, which means our time in lockdown just got a whole lot better!
One of the nation's favourite cocktails, at 8% ABV, the gigantic bev is currently being sold on Amazon from drinks manufacturer, Giraffe Draught Cocktails.
The keg is being sold for £99,99, which may seem expensive at first, but bare in mind it promises to contain 31 servings of the coffee infused drink, which means the price per drink is £3.22! That's half the price you'd pay in a bar – or a third of the price if you're somewhere swanky.
The container – fit with a tap for pouring – is perfect for a stay-at-home party or two while we're all being told to stay in lockdown.
And the best bit is you don't have to leave the house to get it, either.
Just as if you were buying alcohol in a shop, you'll need ID on delivery, and it'll cost an extra £5 for delivery due to its hefty weight.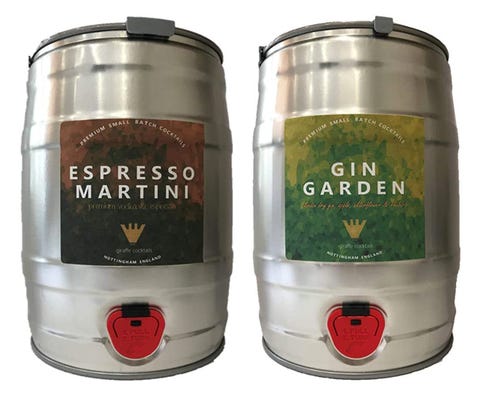 Giraffe Draught Cocktails is also selling a Gin Garden keg and a porn star martini one, if that's more your thing.
Offering 5 litres of the "fresh" and "fruity" apple and rhubarb flavoured spirit, the gin garden is a slightly more alcoholic 10.5% ABV, and also offers 31 servings to enjoy.
The Pornstar Martini keg is 8% ABV and also includes 31 servings of your favourite passion fruit tipple.
These two kegs are slightly cheaper, priced at £99.99.